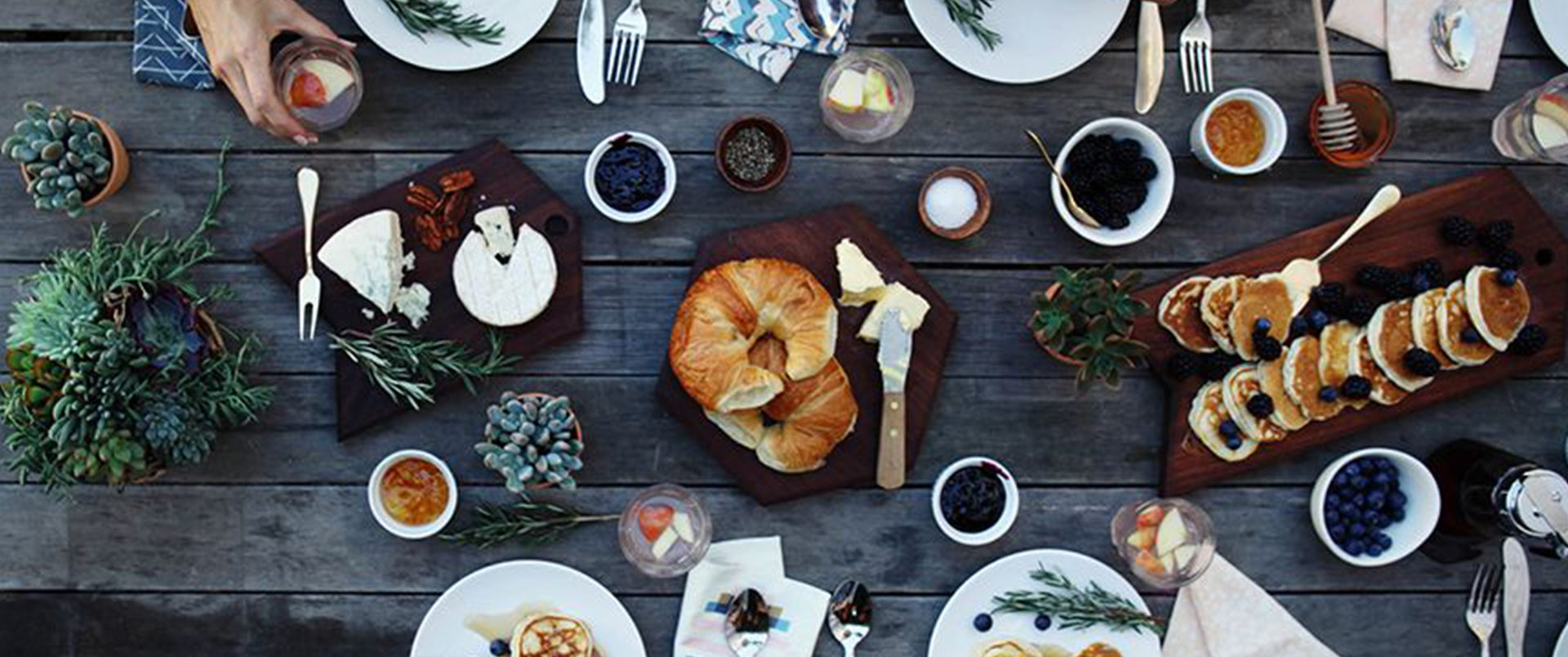 Florence Kingsland la sapeva lunga in tema di buone maniere e già nel 1923 nel suo "Book of good manners" spiega che la giusta colazione deve "iniziare con frutta, proseguire con un piatto di pesce, un'entrée (preferibilmente un qualche miscuglio con uova), una portata di carne, un'insalata e un dolce e poi concludersi con un buon caffè." Ecco, forse al giorno d'oggi, questo menu risulta un filo pesante e soprattutto incompatibile a livello di tempistiche con le nostre mattine che posso sfidare il tempo del miglior maratoneta olimpico. Nel weekend però di tempo ne abbiamo e possiamo preparare una colazione ricca, curata e degna dei consigli della signora Kingsland.
Preparare un ricca colazione nel fine settimana è un modo inaspettato e intelligente per godersi ottimo cibo in buona compagnia. Se è vero che chiunque è in grado di offrire una colazione in casa, non tutti sanno esattamente come organizzarsi in modo da non incorrere in spiacevoli inconvenienti. Ovviamente abbiamo grande stima per i consigli della signora Kingsland, ma i tempi sono cambiati… ora molti di noi il caffè lo bevono all'inizio e la carne è stata decisamente abolita!Iniziare bene la giornata con una tavola deliziosa mi mette sempre di buon umore e per la colazione i fondamentali sono davvero pochi: una tovaglietta americana, una tazza e un tovagliolo. Lasciatevi poi trasportare dalla fantasia e dell'immaginazione per la decorazione, i fiori sono sempre un must, sia disposti a piccoli mazzolini o posizionati con composizioni più studiate.Non esistono regole ferree sul cosa servire, ma i prodotti da forno come torte, biscotti e pane e marmellata fatti in casa sono sempre qualcosa che rende uniche le nostre mattine. Cibi semplici come frutta già lavata e piccole porzioni sapranno sicuramente mettere a proprio agio ogni ospite. Non dimentichiamoci di caffè, tè e qualche succo di diverso gusto. In questo periodo anche i vari tipo di latte possono essere una fantastica alternativa e soprattutto una delicatezza per le persone intolleranti ai latticini classici.Unico segreto? I particolari, sono quelli che fanno la differenza!Foto by Emma Dime
---
Good manners for breakfast
Florence Kingsland knew a lot in terms of good manners and already in 1923 in her  "Book of good manners" explains that the right breakfast must "start with fruit, go on with a fish dish,  an entree (preferably some combination with eggs ), a meat course, salad and a dessert and then end on a good coffee. zenescorts "Well, perhaps today, this menu is a little heavy going and rather incompatible in terms of timing with our mornings as at present I can challenge the best time of an Olympic marathon. Over the weekend, however, we have more time available and we can prepare a full and  accurate breakfast  worthy of the advice of Mrs. Kingsland. Prepare a hearty breakfast at the weekend is a clever and unexpected way to enjoy great food in good company. While anyone is able to offer breakfast at home, not everyone knows exactly how it should be organized in order to avoid unpleasant difficulties. Obviously we have great respect for  Mrs Kingsland's advice, but times have changed … now many  people drink their coffee at the beginning and meat has been definitely abolished! Starting  your day with delicious cooking always puts me in a good mood and for breakfast the fundamentals are very few: a place mat, a cup and a napkin. Let yourself get carried away in fantasy and imagination for the decorative part, flowers are always a must, whether they are  arranged in small bouquets or in researched compositions. There are no strict rules on what to serve, but the baked products such as cakes, biscuits and bread and homemade jam are always something that makes our mornings unique. Simple foods such as pre-washed fruit and small portions will definitely let every guest's hair down. Don't forget about coffee, tea and some different juices. In this period even  different types of milk can be a fantastic alternative and especially a delicacy for who is intolerant to dairy classic products. One secret? The details are the ones that make the difference!