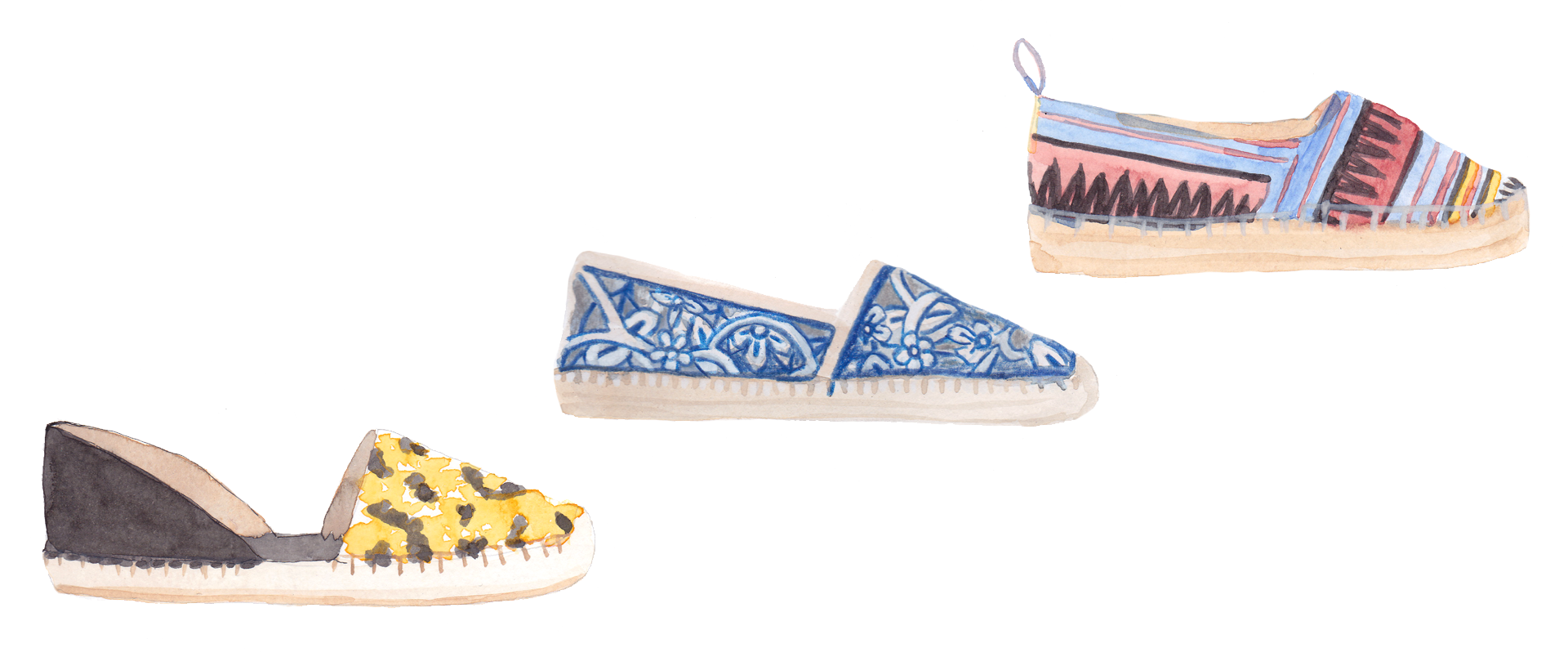 Fate volare i tacchi (non me ne voglia Spora!) e liberate i vostri piedini. Le espadrillas, comode, coloratissime e stylish (e in alcuni casi anche molto convenienti) sono l'alternativa più chic di calzatura "leggera" da indossare, anche in città, ora che la temperatura lo permette.Dalle stalle alle stelle: la storia delle espadrillas sembra un romanzo a lieto fine. Nata secoli fa come umile calzatura dei campesinos, i contadini spagnoli, oggi è ormai diventata una scarpa di tendenza per l'estate. Amata e rivisitata anche dalle griffe più glamour, questa stagione  si veste di pizzo creando un mix inedito, femminile e sorprendente. Forse la parola giusta per questa scarpa è "democratica", almeno nell'immaginario, come la celebre bevanda gassata che, ragionava Andy Warhol, accomuna il presidente degli Stati Uniti al barbone all'angolo della strada: non c'è denaro che tenga, la ricetta e il sapore sono identici.
Ecco la mia gallery delle "preferite": in pelle argentata, con borchie e paillettes, ricami in perline, stampe tutti frutti e floreali… l'importante è bandire la sobrietà. Perché in questo caso, vince la regola del "more is more".
– Chanel, Espadrillas in pelle ecru e nera effetto invecchiato con logo
– Valentino, Espadrillas in pelle con ricami e traforazioni
– Twin Set Simona Barbieri, Espadrillas ricamate in paillettes
– H&M, Espadrillas Tutti Frutti
– Jimmy Choo, Espadrillas Dreya in pelle e jacquard con stampa floreale
– Tory Burch, Espadrillas Lucia in pelle con ricami
– Love Moschino, Espadrillas in canvas con fantasia multicolore
– Havaianas, Espadrillas in tela con cucitura colorata
---
The hour has struck for Espadrillas
Throw away your high heels (I don't want Spora!) and unleash your legs. Espadrillas  comfortable, colorful and stylish (and in some cases much cheaper) are the alternative chique "light" shoe to wear, even in the city, now that the temperature allows you to.
From rags to riches: the story of the espadrillas seems like a novel with a happy ending. Born centuries ago as a humble shoe of campesinos, the Spanish peasants, today they have become the shoe trend for the summer. Loved and also revisited by the most glamorous brands, this season dress lace is creating an unprecedented, unusual and surprising entry in womens fashion. Maybe the right word for this shoe is "democratic", at least in the imaginary sense, just like the famous fizzy drink that, as reasoned by Andy Warhol, unites the US president to the 'bum' on the corner of the street. Money is no object. The recipe and taste are identical.
Here's the gallery of my favorites: Silver leather, with studs and sequins, embroidered beads, printed designs all fruits and flowers … the important thing is ban any moderation. Because in this case, the rule "more is more" prevails.
– Chanel, Ecru and black leather aged effect Espadrillas with logo
– Valentino, Leather with embroidery  and perforated Espadrillas
– Twin Set Simona Barbieri, Espadrillas embroidered in sequins
– H & M, Tutti Frutti Espadrillas
– Jimmy Choo, Dreya leather and jacquard Espadrillas with floral print
– Tory Burch Lucia leather Espadrillas with embroidery
– Love Moschino, Canvas Espadrillas  with multicolor fantasy print
– Havaianas, Canvas Espadrillas with coloustitching