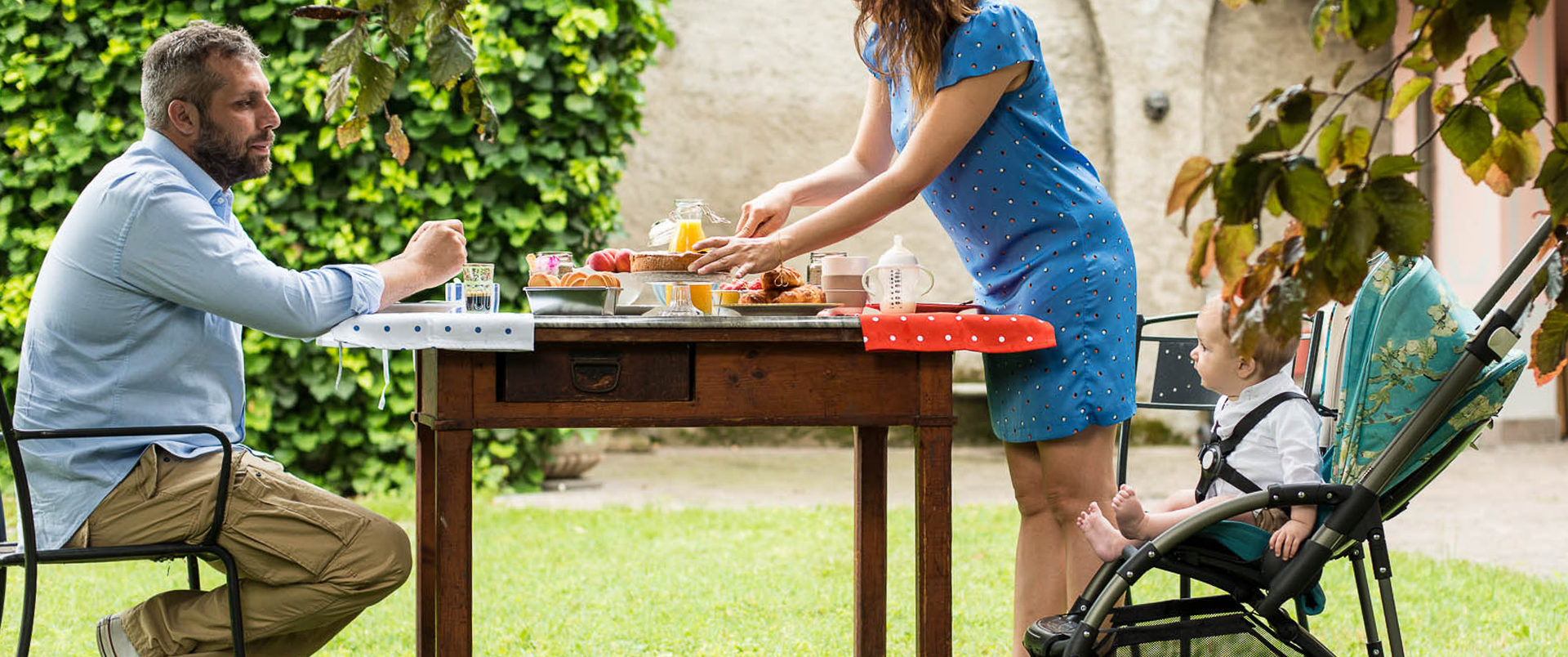 Succede di continuo. Ci si innamora delle persone, ma anche di certi luoghi o di un oggetto perchè lo carichiamo talmente tanto di significati o di profumi in grado di evocarci sensazioni o ricordi indelebili che bam! fa un tuffo nel cuore. Io mi innamoro dei momenti, degli attimi e la colazione è uno di questi.
Le mie albe con lui, piccolo mattiniero, si susseguono giorno dopo giorno. Ci sediamo in terrazza, ci guardiamo, ci coccoliamo e iniziamo lentamente le nostre giornate. le nostre ore sono avvolte da quella luce speciale, che solo pochi vogliono vedere la mattina, bassa, a tratti opaca, ma carica di quell'energia del risveglio. In quei momenti la dolcezza ci tocca il cuore, la gentilezza ci avvolge in un semplice sorriso.
Non importa se spesso siamo stroppicciati, i nostri colori si fondono in una danza che ci fa stare bene, ci rassicura che un altro giorno sta per iniziare e tutto andrà bene perchè in fondo lo sappiamo bene, io e lui, alla sera torneremo sulla stessa sedia a dondolo a guardare le stesse foglie muoversi e a goderci lo spettacolo del cielo rosa antico dell'estate.
In quegli istanti tutto inizia a muoversi e a svegliarsi, i primi rumori, i primi risvegli e le prime scoperte. Aria frizzante, maglioncino leggero, piedi che si bagano nell'erba bagnata di rugiada: quanto vorrei che ogni giorno le nostre colazioni fossero sempre così, con solo questi ingredienti. Noi tre, svegli per amarci e pronti a credere nell'impossibile e a non smettere mai di sognare, anche da svegli.
Questo è il primo di quattro progetti dedicati a Bugaboo
Nella foto Bugaboo Van Gogh Special Edition , ispirato al "Ramo di Mandorlo in Fiore" di Van Gogh.
---
We keep on falling in love…
It happens all the time. We fall in love with people, but also with some particular places or with an object because we load it up with so much relevance or scents able to remind us of unforgettable memories or feelings that bam! skipped hearbeat. I fall in love with situations, with moments and breakfast is one of them.
My dawns with him, early-rising little one, follow one another day after day. We sit on the terrace, we look at eact other, we cuddle each other and slowly we start up our day. Our hours are shrouded  in that particular light that only a few people want to see in the morning, it is  low, dull at times, but full of that energy of the awakening. During those moments  sweetness touches us, kindness surrounds us with a simple smile.
No matter if we are often worn and crumpled,  our colors come together in a dance that makes us feel good, that reassures us that another day is about to begin and that everything will be fine because he and I know well that  in the evening we will be back on the same rocking chair watching the same leaves moving around and enjoy the spectacle of the antique pink summer sky.
In those moments everything  starts to move  and to wake up, the first sounds, the first awakenings and the first discoveries. Crisp air, light sweater, feet  getting wet in the dewed grass:  I wish so much  that every breakfast was always like that, just with  these ingredients. The three of us, awakening simple to love each other and ready to believe in the impossible and to never stop dreaming even when awake.
This is the first of four projects dedicated to Bugaboo
In the photo Bugaboo Van Gogh Special Edition, inspired by the "Branch of almond blossom" by Van Gogh.