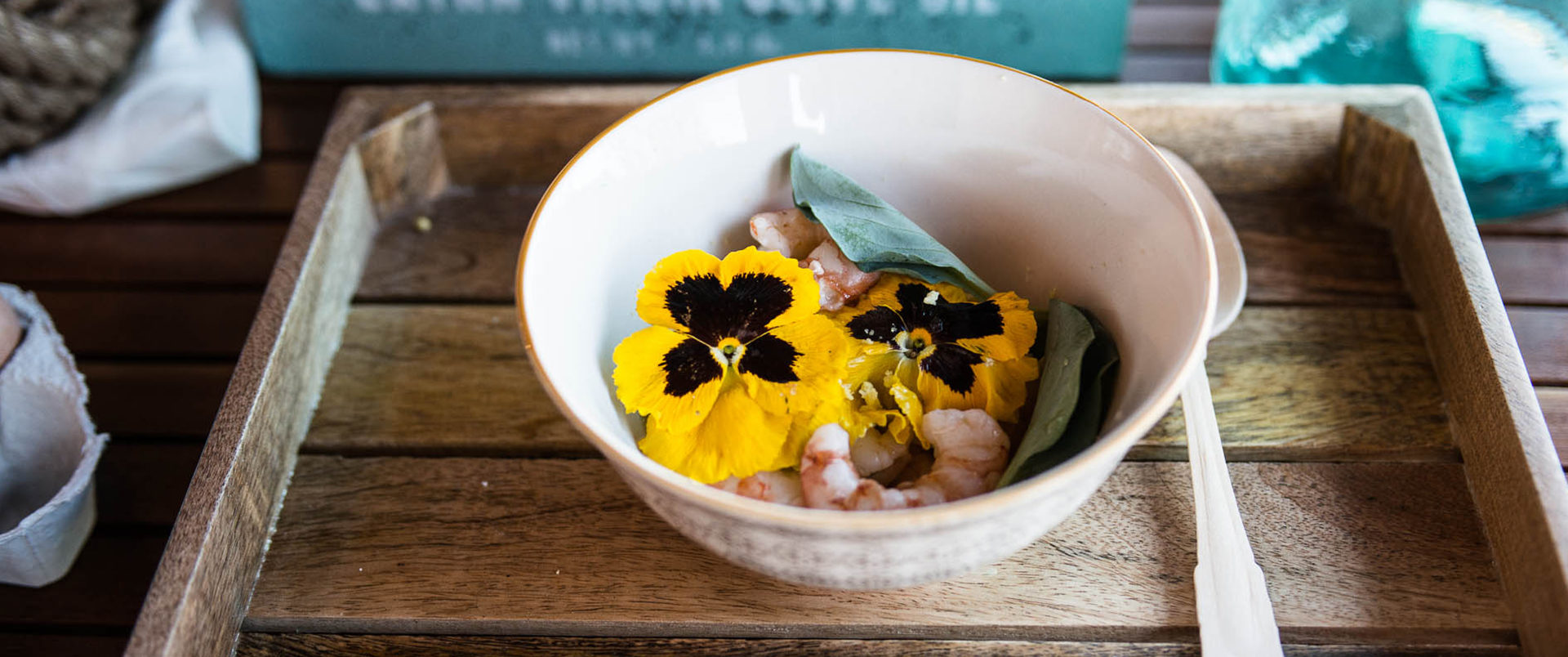 A volte basta davvero poco per immaginarsi con i piedi nella sabbia e su un asciugamano umido in riva al mare. Lele realizza sempre ogni mio desiderio e in un attimo mi porta dove lo sciabordio delle onde si può sentire non solo con la fantasia…
Con questa ricetta ho scoperto questo ingrediente magico che da oggi sarà il protagonista delle mie insalate estive: le foglie d'ostrica. Per me, golosissima di ostriche è la svolta: dare il tocco di mare alle mie insalate sarà il mio ingrediente segreto dell'estate 2015.
Insalata di gamberi al vapore, foglie d'ostrica e fiori eduli
Ingredienti per quattro persone
20 gamberi puliti
Foglie d'ostrica
Fiori eduli
Olio Extravergine di Oliva
Un uovo sodo
Procedimento:
Cuocere i gamberi a vapore (noi lo abbiamo fatto usando il Multi Cooker Kitchenaid). Disporre in una ciotola i gamberi, le foglie d'ostrica, i fiori eduli a strati e guarnire con dell'uovo sodo sbriciolato e irrorare il tutto con olio extravergine di oliva.
---
Steamed shrimps and oyster leaves
Sometimes it takes very little to imagine yourself with your feet in the sand on a damp towel on the seashore. Lele always fulfils your everything I desire and he  instantly propels me where the lapping of the waves can be heard and not only in your immagination …
With this recipe I found this magic ingredient that today will be the star of my summer salads : oyster leaves. For me these luscious oysters are the turning point: a touch of the sea in my salads will be my secret Summer 2015 ingredient.
Salad of steamed shrimp, oyster leaves and edible flowers
Ingredients for four people
20  cleaned shrimps
Oyster leaves
Edible flowers
Extra Virgin Olive Oil
A boiled egg
Method :
Steam the shrimps ( we did this using the Kitchenaid Multi Cooker ). Place in a bowl the shrimps, the oyster leaves and the edible flowers in layers and garnish with crumbled hard-boiled egg and sprinkle it all with olive oil.