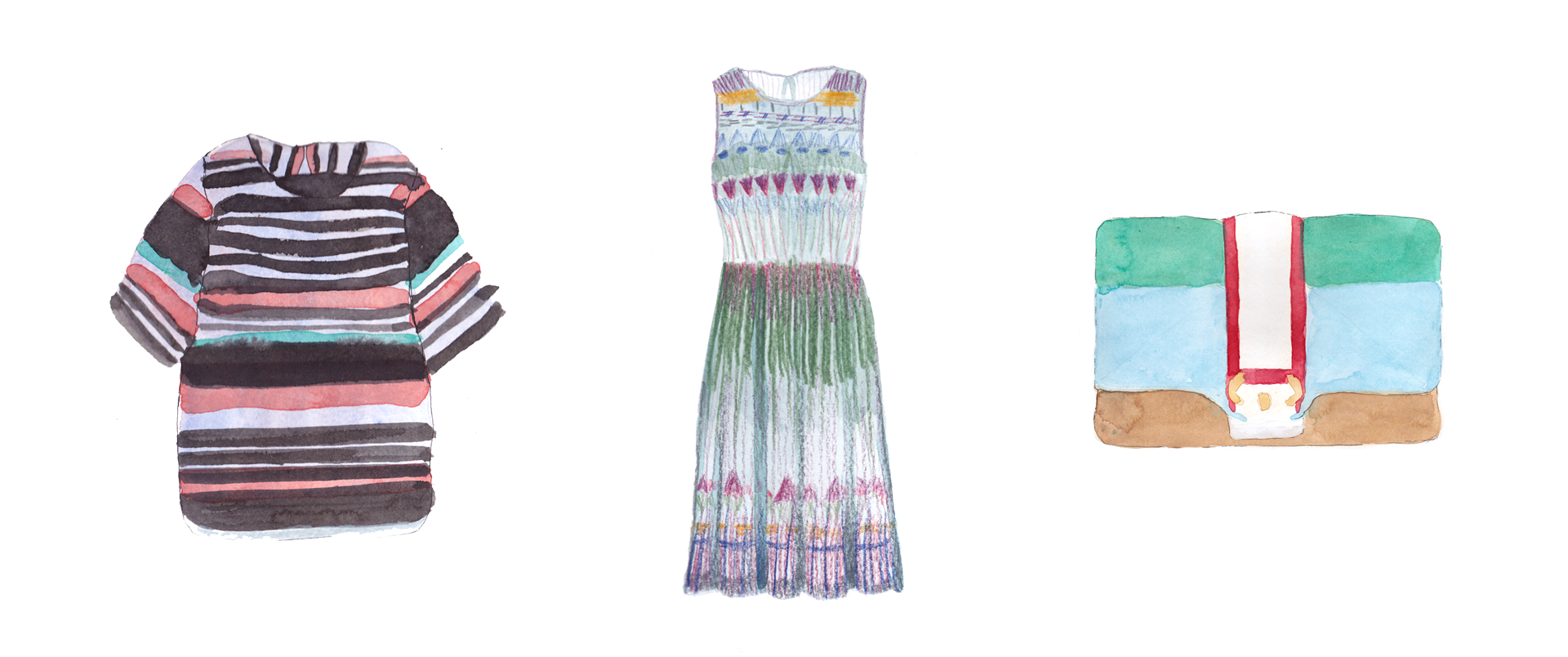 La classica maglia a righe mi ricorda subito la splendida Brigitte Bardot che l'ha adottata come uniforme. Emblema dello stile parisienne le righe sono in poco tempo diventate una delle colonne portanti del mio guardaroba e hanno l'abilità di mutare, adattandosi a qualsiasi stile, creandone sempre di nuovi grazie alla semplice addizione di colori inusuali o accorgimenti dal sapore optical.
L'amadio della mia stagione estiva non sarà da meno: mini, ton sur ton, marinarette, a tinte fluorescenti, verticali oppure macro… ne ho di tutti i tipi! Le declinazioni sul tema sono infinite e gli accostamenti classici sono una scelta a dir poco limitante. Sbizzarritevi abbinando diversi motivi, colori e divertitevi creando abbinamenti improbabili. Gli accessori non sono da meno; décolletée, borse a mano, zaini e slip on cavalcano il trend delle righe, non resta che risparmiare per fare un po' di sano shopping! Qui di seguito le mie righe preferite del momento.
– Marella, abito in voile di cotone io adoro i colori di questo vestito, così delicati e così sobri. I colori si ispirano alle baiadere, le danzatrici indiane (in indostano nac), che si esibivano in feste e cerimonie religiose e profane.
– H&M, Kimono con cinturino da avvitare in vita, se non l'avete ancora comprata, compratela! Io l'ho presa a inizio stagione e la metto con tutto dai classici jeans alle gonne tubino.
– Joules, bracciale smaltato, un tocco di colore sul polso con questo bracciale che ricorda i quadri di una galleria d'arte moderna.
– Zara, maglia a righe, le righe color carta da zucchero donano a questa maglietta, con spacchi laterali, un'allure nordico. Anche questo è uno dei miei must di stagione che metto sempre, sia per un look da giorno, sia per un look da sera.
– Paula Cademartori, clutch con fibbia smaltata, adoro questa stilista, che crea borse partendo dalla luce delle costellazioni, per finire nei colori delle profondità degli abissi.
– Kristina Ti, abito in chiffon stampato, lei non ha bisogno di presentazioni, e questo è l'abito "svolta" della mia estate.
---
Stripes… and it's an immediate craze
The classic striped shirt reminds me immediately of the gorgeous Brigitte Bardot who adopted it as her uniform. Stripes are the symbol of the parisienne style and in a short time they became one of the cornerstones of my wardrobe and they are able to transform by  adapting  to any style, always creating new ones thanks to the simple addition of unusual colors or  optical tricks.
My summer wardrobe can't be different: mini, ton sur ton, marinarette,  fluocolored, vertical or macro … I have all kinds! The variations on the theme are endless and classic combinations  are a limiting choice. Indulge yourself combining different patterns, colors and have fun creating unrealistic combinations. No difference for the accessories; court shoes, hand bags, backpacks and Slip on ride the trend of stripes, you cannot do anything else but save  money  doing a little good shopping! Below are my favorite stripes of the moment.
– Marella, dress in cotton voile.  I love the colors of this dress, so delicate and sober. The colors are inspired by the baiadere, indian dancing girls (nac in Hindustani)  who performed during festivals and during religious and profane ceremonies.
– H & M, Kimono with strap belt to tie to waist.  If you have not bought it yet, buy it! I got it early in the season and I wear it with everything from classic jeans to sheath skirts.
– Joules, enamel bracelets. A  touch of color on your wrist with this bracelet that recalls the paintings of a modern art gallery.
– Zara, striped shirt.  The robin's egg blue stripe gives this t-shirt with side slits a  Nordic allure. This is also one of my musts for  this season that I always wear, either for a day look or for a evening one.
– Paula Cademartori, clutch with enamel buckle. I love this designer who creates bags starting from the light of the constellations and ends up  in colors of the depths of the abyss.
– Kristina Ti, printed chiffon dress. She does not need any introduction, and this is the   "turning point"   dress of my summer.