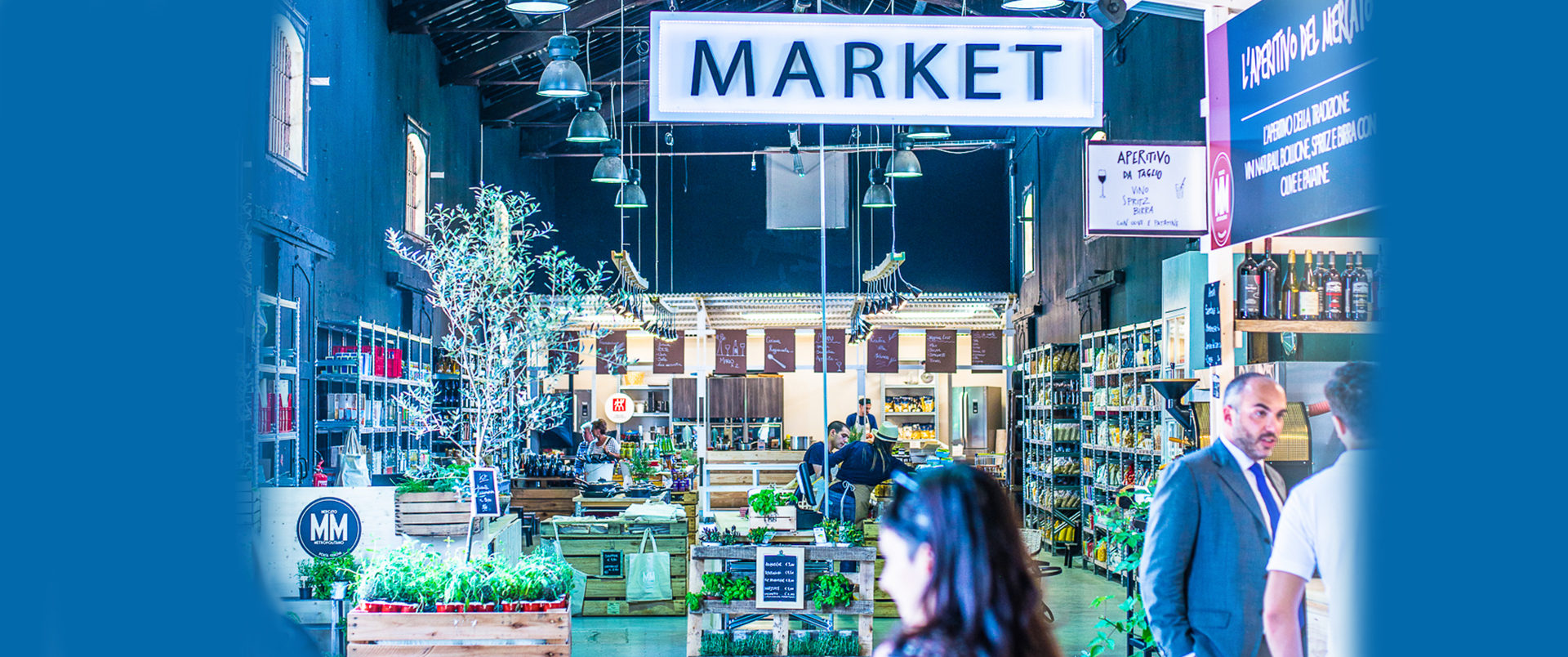 Sarà che un posto così a Milano mancava, sarà che sembra di essere a Berlino, sarà che adoro gli ambienti informali che mettono d'accordo tutti, ma il Mercato Metropolitano ha scalato subito la mia personale classifica dei miei posti preferiti di Milano.
Il Mercato Metropolitano è come un vero e proprio Farmer's market su circa 15.000 mq, con centinaia di produttori,  street food di qualità e tipicità regionali e un anfiteatro all'aperto, che da questa poche settimane ospita anche l'Arianteo, un vero e proprio cinema sotto le stelle. L'atmosfera è giocosa, divertente e rilassata, è perfetto per le uscite con gli amici la sera ma anche nel week end con la famiglia.
Cosa si può fare?
Comprare frutta e verdura
Lo so, banale, ma io ho adorato farla lì tra ceste di vimini e frutta che sa di frutta e verdura che sa di verdura.
Comprare il pane buono
Qui si può comprare il pane sulla base di quando è stato sfornato – ovviamente a un costo diverso. Dimostrando così come anche il pane che ha 48 ore possa essere buono, se le materie prime e la lievitazione sono valide.
Saltellare da un food truck all'altro
Una volta superata la parte al coperto del Mercato Metropolitano vi ritroverete fra un orto e l'altro circondati da food truck: tortellini, hamburger, birra artigianale, mini cassate e tanto altro ancora.
Andare al cinema all'aperto
Dal 1 giugno aprirà un cinema con 500 posti curato da Anteo. Prima si mangia, poi si vede un film e dopo ancora si beve: è il Paradiso o cosa?
Seguire corsi di cucina
I corsi saranno tenuti da chef professionisti a cui si potranno chiedere suggerimenti sempre preziosi.
Adoro lo scalpitare di Milano in questo periodo, è tutto un susseguirsi di aperture, inaugurazioni e gente nelle strade e forse era proprio questo che mancava in questa città che spesso si prende troppo sul serio.
Mercato Metropolitano
Via Valenza 2
Milano
ORARI
da lunedì a giovedì 11:00 – 24:00
venerdi 11:00 – 02:00
sabato 09:00 – 02:00
domenica 09:00 – 24:00
---
The metropolitan market: Milan, the city I'm in love with
Maybe because such  a place in Milan was missing, maybe because it  seems to be in Berlin, maybe because I love informal places that suits everyone, but the Mercato Metropolitano (metropolitan market) has climbed my personal classification  of my favourite place in Milan immediately to the top.
The Mercato Metropolitano is like a proper  Farmer's market of about 15,000 square meters, with hundreds of producers, quality street food and typical regional products and an outdoor amphitheater that, since a few weeks ago has been hosting  the Arianteo, a proper  cinema under the stars. The atmosphere is playful, funny and relaxed, perfect for outings with friends in the evening but also for the weekends with family.
What can you do there?
Buy fruit and vegetables
I know it is corny  but I loved shopping there surrounded by  wicker baskets and fruit that tastes of fruit and vegetables that tastes like vegetables.
Buy good bread
Here you can buy bread on the basis of when it was taken out from the oven – obviously at a different cost. Thus demonstrating how even a 48 hours bread  can be good if the raw materials and the leavening are valid.
Hopping from one food truck  to another
Once you  passed through  the indoor part of the Metropolitan Market you'll find yourself between  a vegetable garden and another surrounded by food truck: tortellini, burgers, brewpub beer, mini cassata and much more.
Going to the outdoor cinema
Since the 1st June a cinema with 500 seats edited by Antaeus opened.  First you eat, then you watch a movie and after that you have a drink: is it  heaven or what?
Follow cooking classes
The courses will be held by professional chefs and you can always ask them for precious suggestions.
I love the bit of Milan in this period, it is a sequence of openings, launches and people in the streets and perhaps that was what was missing in this city that often takes itself too seriously.
Mercato Metropolitano
Via Valenza 2
Milano
Opening times
monday to thursday 11.00 – 24.00
friday 11.00 – 02.00
saturday   09.00 – 02.00
sunday      09.00 – 24.00