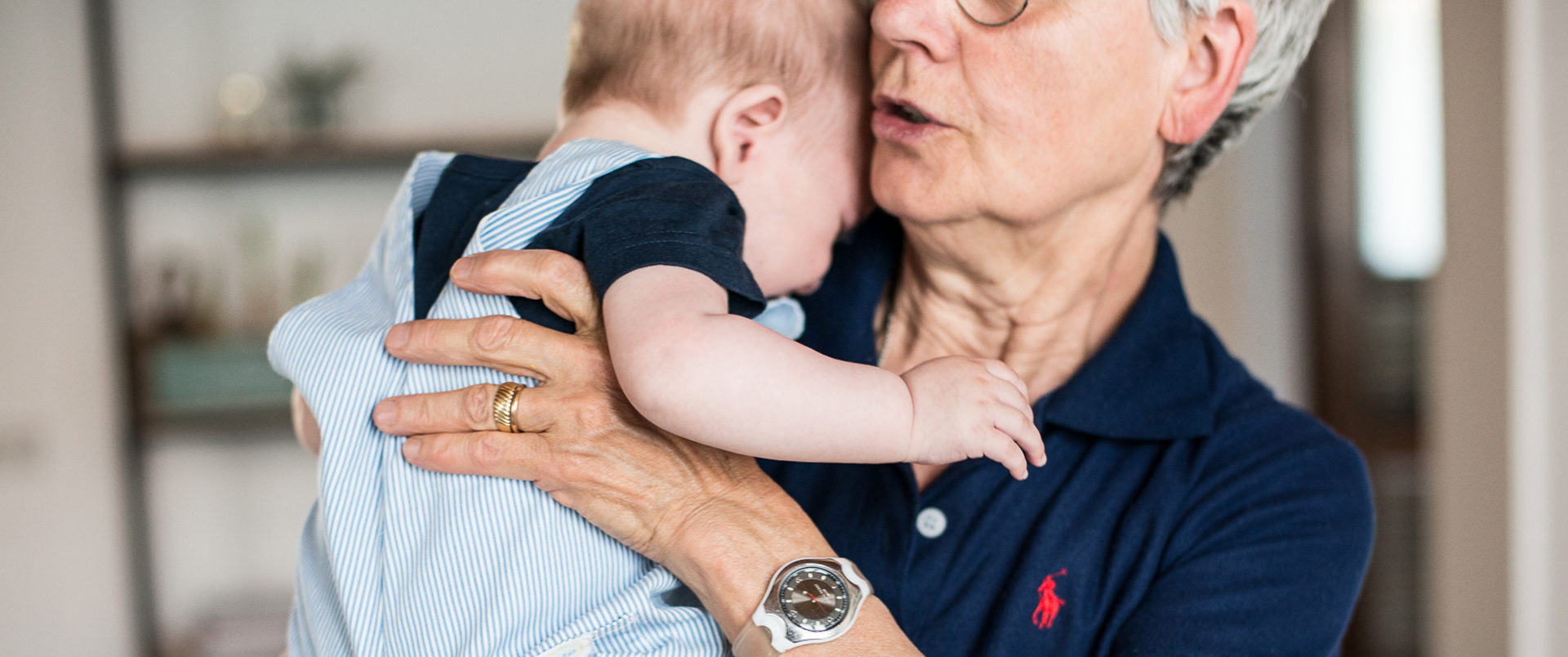 Arriverà il momento in cui penserai che i tuoi genitori sono persone fuori dal mondo. Arriverà il momento in cui non vorrai più perderti nelle coccole della mamma o negli abbracci di papà. Camminerai da solo, e solo il pensiero mi emoziona. Sai, forse non ho ancora realizzaro di essere mamma, ma questi pensieri ogni tanto arrivano. Spero di insegnarti il meglio, per quanto ti possa dare, anche se non sarà mai abbastanza. Proprio come ha fatto la mia mamma, la tua nonnina. A volte la guardi stupito, non capendo come mai non si ferma mai, a volte le sorridi, burlandoti di lei, a volte la cerchi, sapendo che in lei troverai sempre un rifugio sicuro.
Voi, vi siete già creati il vostro rapporto solido, fatto di abbracci, baci e anche discussioni: ebbene sì discutete! Lei ti dice che sei monello e tu le rispondi con i tuoi versetti e andate avanti per ore!
Lei c'era quando sei nato. Lei se lo sentiva quella sera, se lo sentiva più di me. Il pomeriggio prima ti aveva preparato il letto, con le lenzuola ricamate, aveva riposto i bodini della mamma, che aveva conservato per 33 anni, nel tuo armadio, dicendomi che quelli sarebbero stati il tuo primo vero abbraccio.
Lei c'è in queste cose Seba, abituati. Non sarà mai la nonna dai gesti plateali, nè quella che ti porterà a fare gite in mezzo mondo. Ma potrai essere sicuro di trovarla sempre lì, ad aspettarti e avrai la certezza granitica che farà di tutto per renderti felici, così come fà ogni giorno con noi. Lei magari avrà meno fantasia del nonno Giovanni, sarà meno sportiva del nonno Chicco, sarà meno intraprendente della nonna Carla, ma scolpirà nel tuo cuore una strada, la sua via, quella fatta di gesti semplici, pratici, quotidiani, che dopo poco diventano una costante di vita e ti faranno capire il vero senso della parola famiglia. Goditela Seba, goditi la tua nonnia, dalle tutti gli abbracci che la mamma negli ultimi anni non le ha dato, ridi con lei, sdraiati sul tappeto in giardino a guardare le nuvole, fatti insegnare quella semplicità autentica che, una volta imparata, difficilmente ti abbandonerà.
---
Your roots will be your tomorrow
There will come a time when you will think your parents are out of touch with the real world. There will come a time when you will not feel the need to be cuddled in Mummy or Daddy's arms any longer. You will walk on your own, and I am moved at the only thought of it. You know, maybe I have not realized yet what being a mother entails, but these thoughts sometimes come into my mind. I hope to teach you the best I can to the maximum of my capabilities, although it will never be enough. Just as my mother did, your grandmother. Sometimes you look at her with surprise, and you don't understand why she never seems to stop moving, sometimes you smile at her, mocking her, sometimes you look out for her, knowing that you will always find a safe place with her.
You two have already built a solid relationship, made of hugs, kisses and even arguments: yes you two quarrel! She says you have been naughty and you come back crying carrying on for for hours! She was there when you were born. She could feel it coming on that night, she could feel it more than me. The afternoon before we had made your bed, with embroidered sheets, she placed them in your wardrobe your Mummy's little baby clothes that she kept for 33 years, telling me that those would be your first real hug.
She's in all these things Seba, you have to get used to it. She will never be a grandmother who makes theatrical gestures and she will never take you for trips around the world. But you will be sure she will always be there for you, waiting for you and you can be strongly confident that she will do anything to make you happy as she does every day with us. Maybe she has less imagination than your grandpa Giovanni, she will be less sporty than grandpa Chicco, she will be less resourceful than grandma Carla, but she will engrave in your heart her way, made of simple, practical everyday gestures that after a little while become a permanent feature in your life and they you will make you understand the true meaning of the word family. Seba relish her, relish your nan, give her all the hugs that Mum did not give her in the past years, laugh with her, lie on the carpet in the garden watching the clouds go by, make her teach you the authentic simplicity that, once learned, will hardly ever abandon you.