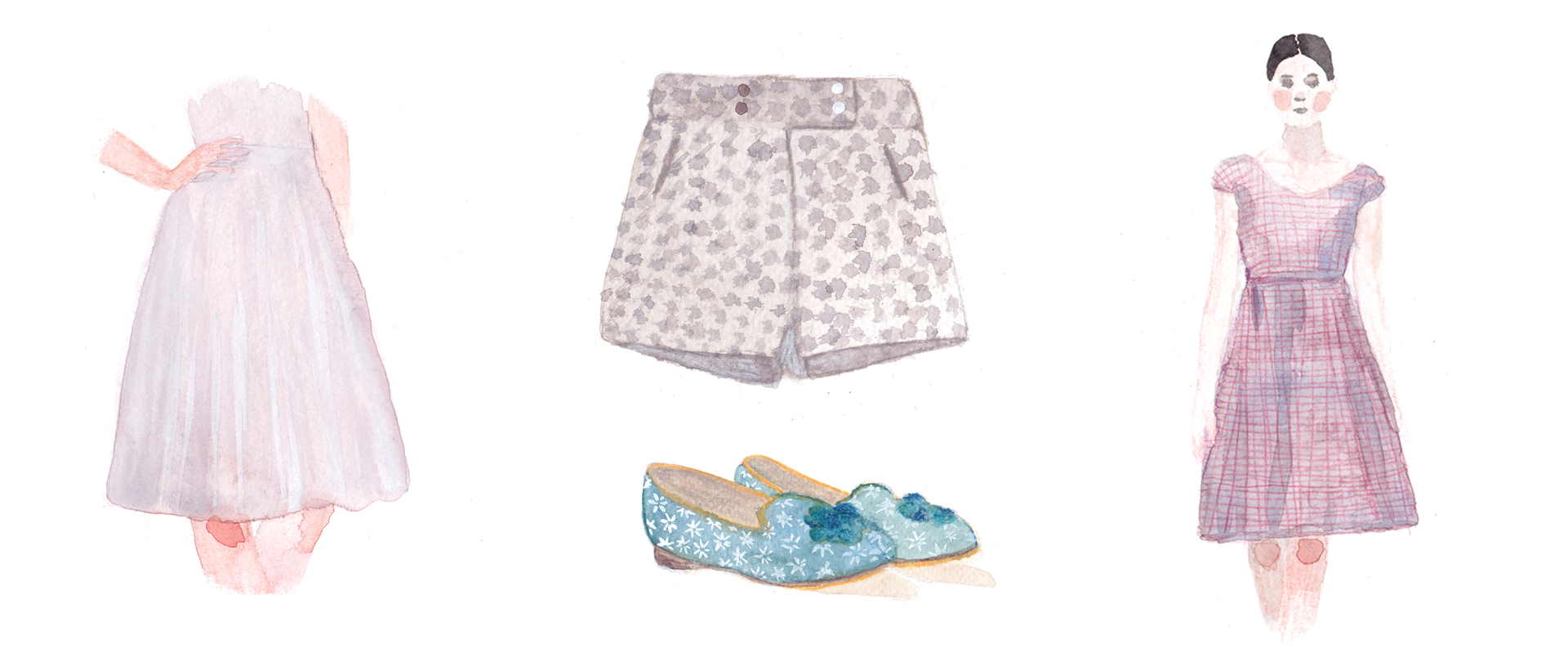 Verde acqua, rosa confetto, lilla Provenza e azzurro cielo: i colori pastello mi hanno letteralmente conquistata questa primavera. Ho letto da qualche parte che non si parla solo di colori pastello, ma anche di colori sorbetto e subito questo nuovo trend fanciullesco mi ha conquistata. Vi lascio la mia selezione primaverile dai colori tenui, pallidi, soffici e romantici, ma anche giocosi e solari, senza per questo essere sfacciati.
– Dyptique, Florabellio ambientazione poetica e bucolica per questo profumo che mi ha letteralmente conquistata. Acqua di mare, caffè, finocchietto selvatico e fiori selvatici creano un mix inaspettato che evoca sensazioni contrastanti.
– Borsalino, Papier ala larga questo è uno dei miei pezzi preferiti: pratico, elegante e versatile, sempre attuale e informale. Lo includo nella mia classica dai colori pastello perchè amo abbinarlo a pantaloni bianchi e Tshirt azzurro cielo.
– Anthrolopologie, Tulle skirt di tutte le gonne di tulle che ho ordinato on line (ebbene sì, ne ho una selezione!) questa è la migliore, la più morbida, quella che veste meglio e la più versatile. Indossarla anche solo con una maglietta bianca risolve la serata.
– Stella Mccartney, Falabella questa in realtà è un "I want it", una borsa diventata ormai iconica che nella versione estiva azzurro ghiaccio e completamente ecologica. Stella, sei sempre una garanzia!
– Santa Clara Milano, Daisy Stone realizzate completamente a mano queste sleepers mi hanno conquistata perchè sono comodissime, si vede e si sente che sono fatte con amore.
– Luisa Beccaria, abito a quadretti i suoi abiti fanno sempre sognare, da quelli da sposa a quelli da sera. Questo mi ricorda quando ero bambina, i quadretti Vichy dei grembiulini e il profumo di pane, burro e marmellata.
– Zara, pied-de-poule un pantaloncino dal taglio dritto con taschini laterali adatto a qualsiasi occasione. Io l'ho adorato subito!
– JenniePie, Balconcino e culotte se non conoscete JenniePie andate a fare un salto sul suo sito. Io da quando uso la sua biancheria non uso altro. Prodotti fatti a mano, con una cura dei particolari maniacale, tessuti morbidissimi e modelli che esaltano ogni dettaglio e nascondono i difetti.
---
Pastel colors inside the wardrobe
Aqua green, baby pink, Provence lilac and cerulean blue:  pastel colors are really the top this spring. I've read somewhere that this spring is not only made of pastel colors, but also of sorbet colors and now this new childlike trend  has won over me. I leave you my spring selection made of  pale, soft and romantic colors that are also jolly and cheerful, without being flashy.
– Dyptique, Florabellio. Poetic and bucolic setting for this fragrance that I literally fell in love with. Sea water, coffee, wild fennel and wild flowers create an unexpected mix that recalls  contrasting feelings.
– Borsalino, Papier wide brim  is one of my favorite: practical, elegant and versatile, timeless and casual. I include it in my  pastel colors classics because I love to match it with white trousers and ceruelan blue Tshirt.
– Anthrolopologie, Tulle skirt.  Among all the tulle skirts I've ordered online (well, I have a selection!) this is the best, the softer, the one that suits  better and it's the most versatile. Wearing it with a white shirt will save the evening.
– Stella Mccartney, Falabella. This is actually an "I want it", a bag which has become iconic in its ice blue  summer version and it is totally ecological. Stella, you're always a guarantee!
– Santa Clara Milan, Daisy Stone. This sleepers are completely handmade and I love them because they are very comfortable, you can see and feel that they are made with love.
– Luisa Beccaria, checked dress. Her outfits always make me dream, from her wedding gowns to her evening dresses. This reminds me of when I was a child, of the gingham smocks and of the smell of bread, butter and jam.
– Zara, pied-de-poule. A straight cut shorts with side pockets suitable for any occasion. I loved it straight away!
– JenniePie, balconette bra and culotte. If you do not know JenniePie go and visit her website. Since I have been wearing her underwear I'm wearing nothing else. Handmade products, with a maniacal attention to detail, very soft fabrics and models that highlight every detail and hide flaws.