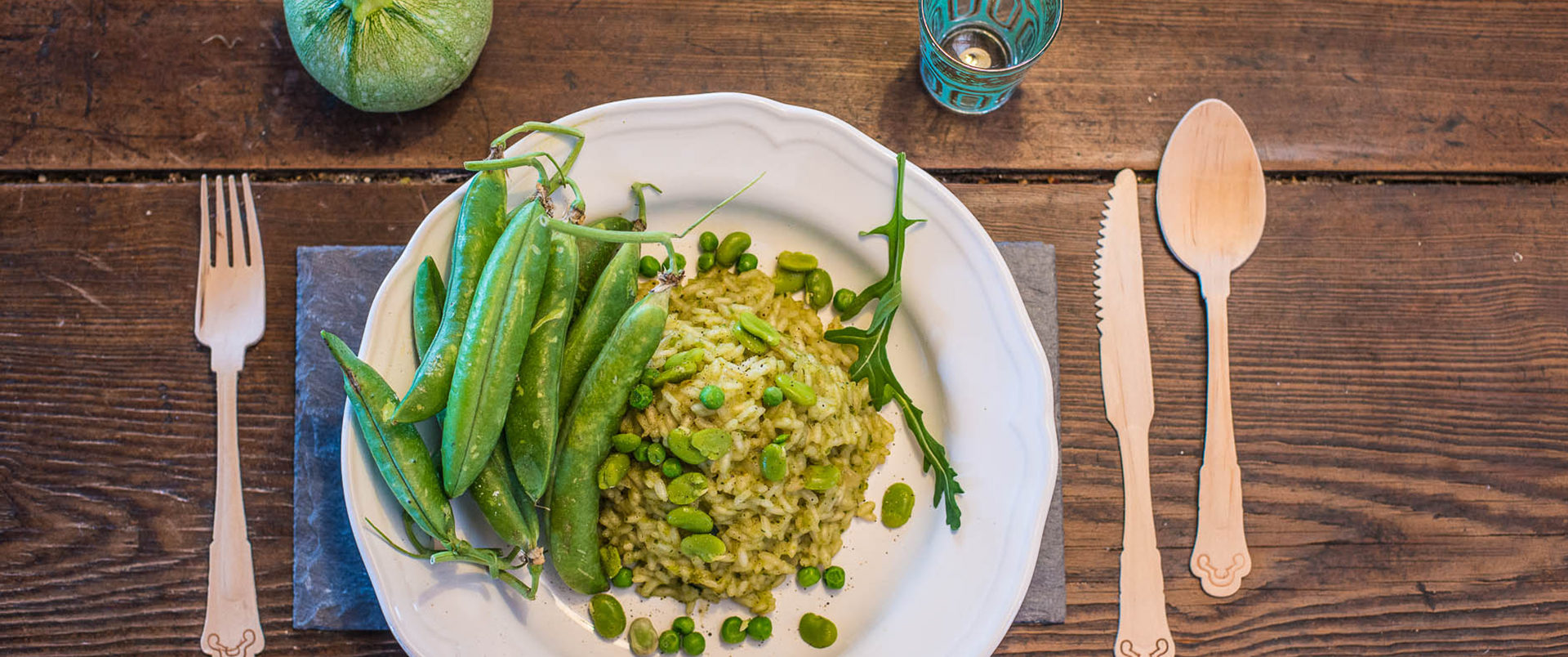 Vi capita mai di tornare a casa e non sapere cosa cucinare? A me spessissimo. Fortunatamente ho amiche che mi danno le ricette salvavita, quelle che non deludono mai e che hanno un bassissimo margine di errore. Uno di questi piatti è il riso green con legumi di stagione, nello specifico fave e piselli, un grande classico che pero' sa dare un tocco di verde e di primavera alla tavola di tutti i giorni.
Ingredienti per 4 persone
320 g Riso Carnaroli  (cottura 15/18 minuti)
Mezza cipolla
150 g Piselli freschi da sbollentare e frullare per realizzare una crema
100 g piselli freschi e 50 gr di fave sbollentate da stufare in padella
Olio, pepe, sale q.b.
1 litro brodo vegetale
Procedimento
Preparare la base del risotto con 4 cucchiai d'olio Evo e mezza cipolla tagliata a pezzettini. Una volta che la cipolla si sarà stufata versare il riso e far andare a fuoco sostenuto fino a quando il riso non sfrigola e avrà assorbito tutto il sapore della cipolla. Continuare la cottura aggiungendo, di volta in volta, il brodo vegetale e girando all'occorrenza il nostro risotto. A metà cottura versare la crema di piselli che avrete frullato e preparato in precedenza (dopo aver stufato in padella i piselli con un pochino di cipolla sale e pepe). A metà cottura dal termine aggiungere i piselli e le fave interi. Al termine spolverare con il parmigiano e lasciare coperto il risotto per farlo decantare prima di servirlo.
---
Green Rice with green-beans and broad beans
Does it ever happen to you that you don't know what to cook when you come home? It happens to me very very often. Luckily I have got friends who rescue me giving me their life-saving recipes, those ones that never let you down and with a teeny weeny possibility of making mistakes. One of these is green rice with seasonal beans, green-beans and broad beans, in this case, a classic that gives a hint of colour and springtime on your everyday table.
Ingredients for 4 people
320 gr Carnaroli rice (cooking time 15 to 18 minutes)
1/2 onion
150 fresh green-beans to be blanched and blended to obtain a cream
100 gr blanched fresh green-beans and 50 gr blanched broad beans to be stewed
oil, salt and pepper to taste
1 lt vegetable stock
Method
Prepare the risotto base with 4 tablespoons of extra virgin oil and 1/2 a diced onion. Once the onion is stewed, add the rice and let it cook at high heat until sizzly and that it has absorbed all the onion flavour. Keep on cooking adding the vegetable stock every so often. Half way through pour in the green-beans cream you have prepared in advance (after having stewed the green-beans in a pan with a little bit of onion, salt and pepper). In the second half of the cooking time add the fresh green-beans and board beans. When cooked sprinkle the rice with parmisan cheese and leave it covered to decant before serving it.
---