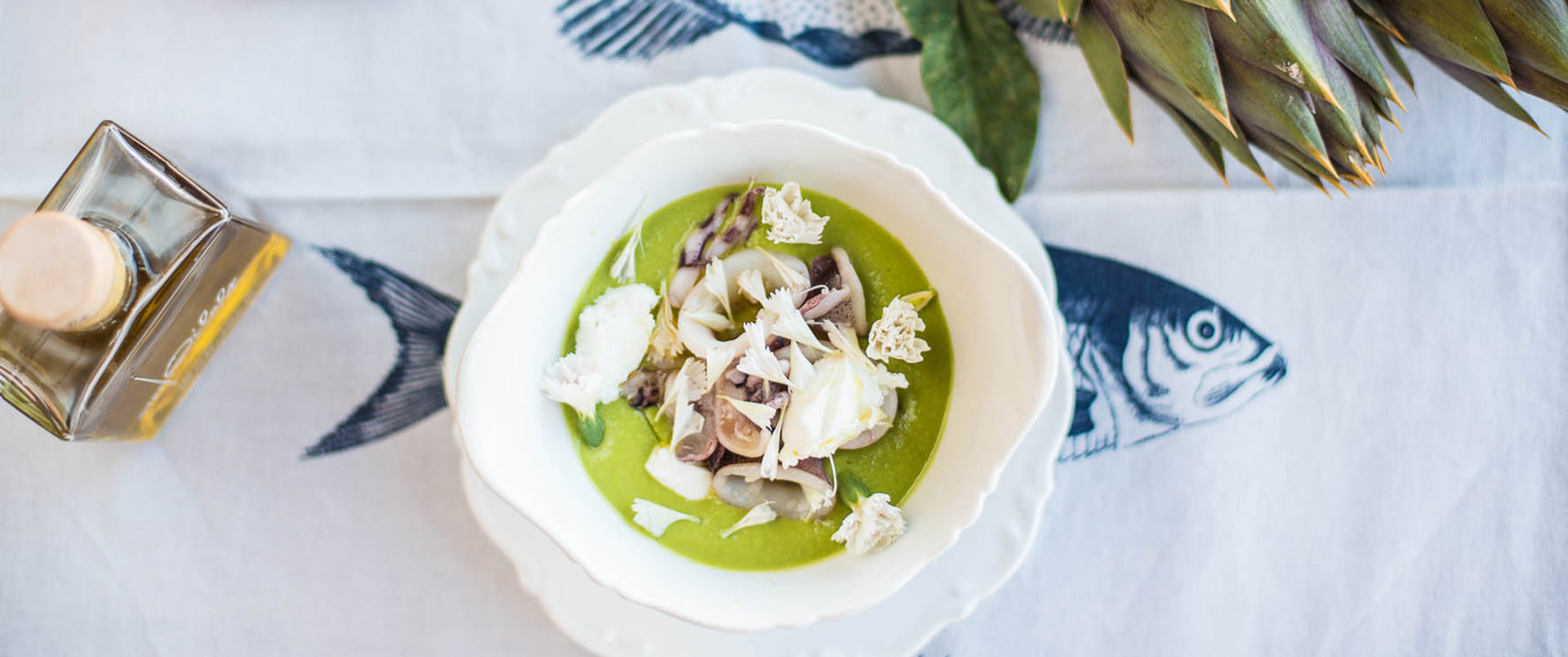 Adoro Virginia Wolfe, adoro quello che è stato il suo modo d'essere e adoro le sue parole, pungenti, reali, vere. Una volta disse che "Non si può pensare bene, amare bene, dormire bene se non si ha mangiato bene". Mangiare bene è come amarsi, coccolarsi in momenti malinconici e accarezzarci in attimi di solitudine. Mangiare è amare, preparare una buona cena è amare, scegliere ingredienti genuini è amare e in questo Lele è un maestro. Con pochi ingredienti riesce sempre a creare dei piatti semplici, da fare in pochi minuti, ma dall'effetto scenico garantito.
Calamari spadellati su vellutata di pisellini ghiacciati
Ingredienti per 4 persone
1 kg di pisellini freschi
500 g di calamari
Olio Extra Vergine di Oliva
Fiori edibili a scelta
Procedimento
Sgranate e sbollentate i pisellini in acqua non salata, far bollire per pochi minuti, scolare e fateli raffreddare il acqua ghiacciata per non farli ossidare. Emulsionarli con il mixer, aggiungendo olio extra vergine e acqua al fine di creare una cremina spumosa. Passare il composto con lo chinoise direttamente nella ciotolina dove si vogliono servire. Spadellare i calamari per qualche minuto.
Disporre i calamari sulla vellutata di pisellini e decorare con fiori edibili.
---
A sea of velvet cream
I love Virginia Wolfe, I love what  her way of being was and I love her words, biting, real and authentic. She once said that "You can not think well, love well, sleep well if you are not eating well." Eating well is like loving, cuddling and caressing in the loneliness of moments. Food is love, love is preparing a good dinner, choosing fresh ingredients and Lele is a master of all this. With a few ingredients he always manages to create simple dishes to prepare in few minutes, with guaranteed scenic effect.
Sautéed squid on cream of iced pea velvet cream
Ingredients for four people
1 kg of fresh little peas
500 g squid
Extra Virgin Olive Oil
Edible flowers as desired
Method    
Shell and blanch the peas in unsalted water, boil for few minutes, drain and let cool on iced water to prevent them from oxidizing. Emulsify with the mixer, adding olive oil and water to create a frothy cream. Pass the mixture with the chinoise directly into the bowl where you want to serve. Sautee the squids for a few minutes.
Place the squids on the cream of peas and garnish with edible flowers.
---