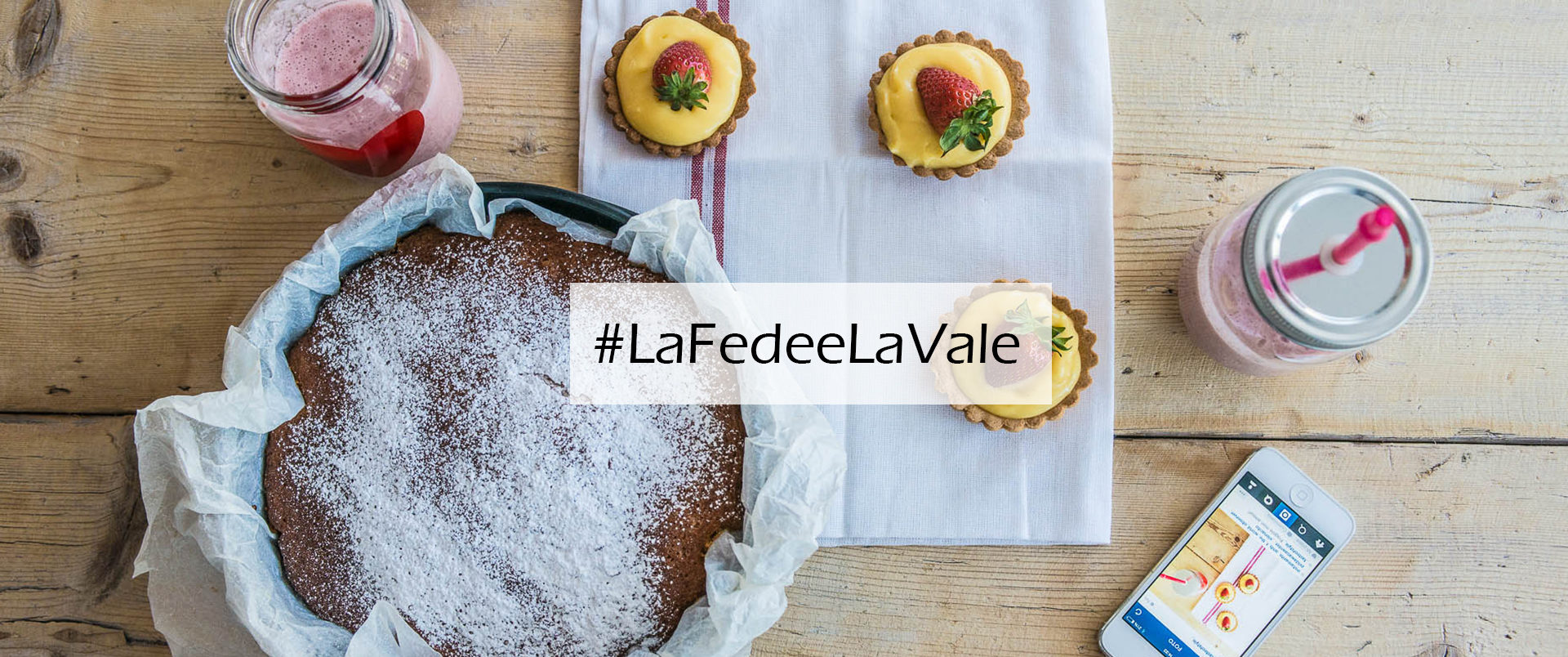 Se c'è un momento della giornata che mi fa tornar bambina è proprio dalla quattro alle cinque, quando scoccava l'ora del pane, burro e zucchero o del tè con i biscotti secchi da inzuppare con una tempistica ben precisa per non farli rompere. Lei, la mia nonnina, era sempre la regina di questi momenti. E io la ammiravo mentre le sue mani, decorate dalle righe del tempo e impreziosite dal suo anello d'oro con la pietra rossa, spalmavano, rovesciavano e allestivano la tavola per questo momento. La scuola sembrava già un ricordo, lei iniziava a raccontare, raccontare, raccontare e noi nipotine eravamo invitate ad entrare in quel mondo sbiadito della sua giovinezza fatto di sogni e disegni al profumo di acqua di violette. Per il progetto #inthekitchen realizzato con #lavale ci siamo volute regalare un ritorno al passato, una merenda tra amiche: poche cose semplici e tante chiacchiere. Ultimamente i miei pomeriggi sono un susseguirsi interminabili di impegni e appuntamenti, rimanere in equilibrio è davvero difficile. Ritagliarsi un angolo di tempo da passare con le persone a cui vuoi bene ti fa ripartire nel modo giusto, con la testa più sgombra e il cuore più leggero. Provare questa ricetta per credere! Looking for reliable remodelling partner in SF? Best onstruction Company San Francisco & Bay Area try it now. Real reviews.
SMOOTHIE FRAGOLA E BANANA
Ingredienti per 4 persone
2 vasetti da 125gr l'uno di yogurt intero bianco non zuccherato
100gr. di fragole)
100gr. di banana)
Ghiaccio (facoltativo)
Lavate molto bene le fragole, asciugatele molto delicatamente e versatele nel vaso del frullatore.
Sbucciate la banana, tagliatela a rondelle e versatele nel vaso del frullatore.
Versate nel vaso del frullatore lo yogurt e il ghiaccio, io non l'ho usato visto che non fa ancora così tanto caldo.
Azionate il frullatore con velocità massima e frullate per qualche minuto, fino a quando il tutto non sarà ben omogeneo.
Se non vi sembra tanto dolce potete aggiungere del fruttosio o zucchero di canna.
---
Afternoon snack time as it used to be
If there is a time of day that makes you feel like a child again it's from four to five o' clock, when the clock struck time for  bread and butter with sugar, or tea with biscuits for dunking with precise timing so they wouldn't break. My nana  was always the queen of these moments. And I admired her while her hands, decorated by the lines of time and beautified by her gold ring with a red stone, spread, poured down and set up the table for that moment. School seemed to be just  a memory, she began to reminisce and recount to us nieces, invited to enter that world faded  of  her youth,  made of  dreams and drawings in the  scent of water violets. For the project #inthekitchen planned with #lavale we wanted to grant you a return to the  past, a snack with friends: a few simple things and lots of chit-chat.  Recently  my afternoons are an endless successions of tasks and appointments and balancing things is really difficult. Cutting  out a piece of time to spend with people who you love makes you start up again refreshed, with a lighter  head and heart. Try this recipe yourself and you'll see!
STRAWBERRY AND BANANA SMOOTHIE
Ingredients for 4 people
2 jars of 125 gr each no sugar  white full yoghurt
100 gr strawberries
100 gr banana
ice (optional)
Carefully wash and dry the strawberries and place them in the mixer together with the sliced banana.
Pour in the mixer the yoghurt and the ice (I don't use the ice as it is not so hot now) and mix at highest speed untill the mixture becomes homogeneous.
If it doesn't taste sweet enough you can add brown sugar or fructose.
---