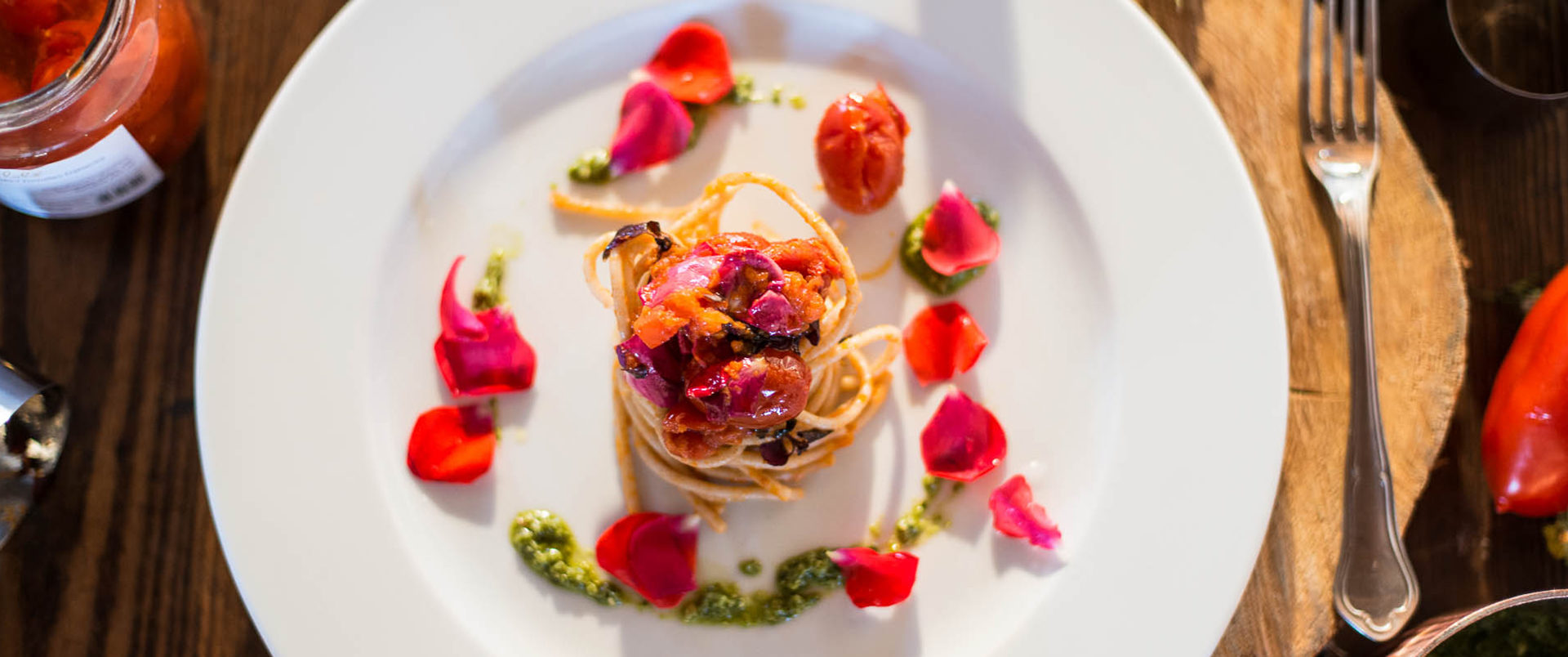 Maggio, mese delle rose e dei risvegli, mese dei propositi e delle prime serate in terrazza, mese delle passeggiate e dei primi profumi di erba tagliata. Amo questo mese, preannuncia l'estate che per me vuol dire lago, gite in barca e finalmente tanto tempo per stare con i miei due ometti adorati. Oggi vi voglio presentare un mio grande amico, Lele, uno chef pazzo che ogni tanto fa capolino in casa mia (ve ne avevo parlato qui) e cerca di insegnarmi le sue ultime pazzie culinarie. L'ultima volta si è presentato con mazzi di fiori edibili e ha iniziato a spadellare. Lele. è un uomo meraviglioso, con una creatività culinaria straordinaria. Vi lascio una ricetta che vi stupirà.
Speghettoni ai petali di rosa rossa
Ingredienti per quattro persone
280 g di di Turanici del Pastificio Mancini (li potete trovare qui)
80 g di petali di rose edibili
1 confezione di pomodorini datterini Oilalà (li potete trovare qui)
4 cucchiai di olio evo
2 spicchi di aglio rosa
2 mazzetti di basilico pestati a mortaio con 3 cucchiai di formaggio grana
3 cucchiaini di pinoli
Preparazione
Reidratare gli spaghettoni per dieci minuti in acqua fredda profumata con petali di rosa. In una padella a parte far dorare l'aglio con un cucchiaio d'olio evo, aggiungere i pomodorini datterini e far scaldare tutto per dieci minuti. In finale aggiungere la spetalata di rose nel sugo. Buttare gli spaghettoni in acqua bollente aromatizzata con i petali rimasti. Terminato il tempo di cottura, far salatre gli spaghettoni e impiattare a piacimento. Noi abbiamo aggiunto del pesto fatto al momento.

Se volete andare a deliziarvi con questo e altri piatti Lele vi aspetta qui.
---
Red rose petal spaghetti
May, the month of roses and awakenings, and the month of good intentions and the first evenings on the sun terrace, the month of walking and roaming, and the first scent of cut grass. I love this month, It promises to be the summer that for me means lake, boat trips and finally enough time to be with my two little men who I adore. Today I want to tell you about a good friend of mine, Lele, a crazy chef who occasionally takes a peek in at my house (I had spoken about him here) and tries to teach me his  latest culinary madness. The last time he presented himself was with bouquets of edible flowers and started tossing them like a Sauté. Lele. is a wonderful man, with an extraordinary culinary creativity. I leave you with a  recipe that will surprise you.
Spaghettoni with red rose petals
Ingredients for four people
280 g of Turanimi from Pastificio Mancini (you can find them here)
80 g of edible rose petals
1 pack of plum tomatoes Oilalà (you can find them here)
4 tablespoons extra virgin olive oil
2 cloves of garlic rose
2 clumps of basil crushed in a mortar with 3 tablespoons of Parmesan cheese
3 tablespoons pine nuts
Preparation
Immerse the spaghetti for ten minutes in cold water scented with rose petals. In a separate pan  brown the garlic with a tablespoon of olive oil, add the tomatoes and heat all for around ten minutes. Right at the end add the rose petal mixture (take the petals apart) to the sauce. Throw the spaghetti into boiling water flavored with the remaining petals. After the cooking time, sauté the spaghetti and serve at will. We also added some last moment pesto.
If you want to be delighted with this and other dishes Lele awaits you here.